As you can imagine, after hosting baseball tours for 15 seasons, we get to meet some great folks. Marie T. is certainly one of them and has been a faithful traveler with us for quite a few years. Marie, from Upstate New York, first traveled with us in 2007 on a West Coast Tour. Since then, she has been on 4 tours with us and has plans to travel again with us in 2020!
Marie shared one of her favorite things about traveling with Big League Tours. "I like the fact that I am in the company of other baseball fanatics! Despite our different team loyalties, we share a love of the sport which makes for camaraderie and in some cases, lasting friendships."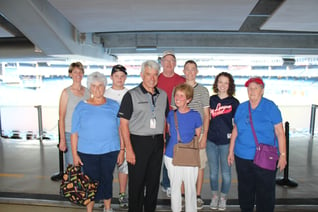 Marie told us about her favorite memory from a Mideast Tour. "In Toronto, Buck Martinez gave a memorable behind the scenes experience of the workings of the broadcast booth and it gave a lasting appreciation of the difficulties and challenges involved in televising the games. We probably take the broadcasting of games for granted and I doubt we would if we had any knowledge at all of what was required! I know I no longer do!" Marie is pictured next to Buck at Rodgers Centre in Toronto.
Marie had a few things to say about the experiences Big League Tours provides. "I would recommend Big League Tours because of the extraordinary customer service. We stay at first class hotels, we always have excellent seats at the game. The guides are always friendly and concerned about ensuring that our experience is a positive one."
She went on to say, "I highly recommend Big League Tours for anyone whose 'Bucket List' includes visiting all the Major League ballparks. It facilitates attainment of the goal by removing all the nightmares of how to get from place to place - getting hotels - getting tickets etc. It is a first class way of attaining your goal!"
We are thankful for Marie and having the privilege of hosting her for so many tours. (We love them as much as you do, Marie!) If you're wanting to check the MLB ballparks off your bucket list too, join us for a tour in 2020!