On every Big League Tours luxury baseball vacation, we put together a meet and greet with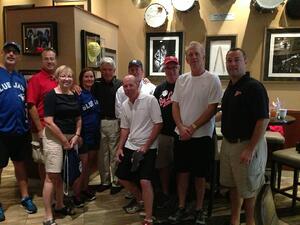 a former player on one of the tour days. We were so pleased that Buck Martinez, former MLB player/manager and current Blue Jays broadcaster, was able to meet with us before the Yankees/Jays game at Yankee Stadium.
Yankee Stadium has its own Hard Rock Cafe inside the ballpark. Our group took the easy subway ride to the ballpark and headed into the Hard Rock. But before the meet and greet, we experienced a little excitement at the Hard Rock.
While waiting on Buck to arrive, we all noticed that an elderly diner in the restaurant was experiencing some problems. He was choking. His son was unsuccessfully performing the Heimlich maneuver and his father's facial color was changing rapidly. Our tour guest Nancy (a nurse from Canada) quickly ran around to the man, lowered him to the floor, and thrust his abdomen up expelling the food that had been lodged in his throat. Great job, Nancy!!
After things calmed down a bit, Buck began to speak to our group about his background and current position, as well as, his opinions on today's players and the game. One of the great things about having someone like Buck Martinez is his insights into the current game. As a broadcaster, he talks with the players and managers on a daily basis and sees many players/teams in his job. This is the second time we have used Buck as our MLB Player Experience and we hope to have him back again in 2014. He was great.
If you would like to join us on one of our tours in 2014, just click the link below and fill out the contact form. We will add you to our mailing list and make sure you are one of the first to know about our 2014 schedule.