Big League Tours has built its business by offering fans a chance to get closer to the game. We do that by guaranteeing lower level seats, planning meet and greets with former players, taking stadium tours, and in general, doing everything we can to make sure our guests are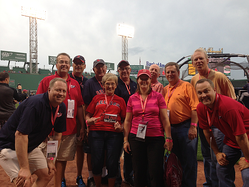 thrilled with their tour experience. The Red Sox made us aware of a new opportunity at Fenway and we jumped at the chance to offer it to our August Hall of Fame Tour group. It was the VIP Batting Practice Experience at Fenway. So, before the Red Sox and Yankees squared off in the ESPN Sunday night game, we made our way to the ballpark.
Our tour host Sarah met the BLT group at the VIP entrance and personally escorted us into ballpark. This was my first time at Fenway Park. The "quaint" feel of the park struck me as we snaked through the small passageways finally entering the seating area right behind home plate. Sarah walked with us down the steps to the wall right beside the Red Sox dugout. She opened a door and led us onto the field. Our guests, and the BLT staff, were in awe as we walked onto on field area right behind home plate. We watched as the teams took batting/fielding practice. First the Red Sox, then the Yankees. Seeing those elite athletes bomb ball after ball into the stands was amazing. This on field VIP batting practice tour is a first for BLT, but it will definitely not be the last.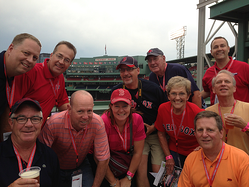 After 45 minutes or so on the field, Sarah suggested that we head up to the Green Monster to see if we could snag some home run balls. Sarah walked us up the steps and over to the Green Monster entrance where we went down to the seating area. A few balls were hit near us, but none of our guests were able grab one. But, the view from the Monster was fantastic.
We ended our tour by walking through the luxury suite area (yes, even old Fenway has luxury suites) and checking out the Red Sox Hall of Fame. All throughout the tour, Sarah gave us historical background on the stadium areas and the team. It was probably the best stadium tour on which we have ever been at Big League Tours.
We will make sure to include this VIP package on our 2014 luxury baseball tours to Boston. Keep an eye on our website for the 2014 tours announcement.