We are looking forward to a great 2013 baseball tour season. Pitchers and catchers for all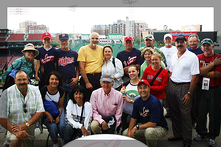 the MLB teams are reporting to camp this week, with position players soon to follow. Opening Day is just around the corner, and our tour groups will start traveling the US enjoying the great game we all love. As interest builds in the MLB season, and our baseball tours, I thought I would take the opportunity to answer the 3 most frequently asked questions about Big League Tours. Here they are:
Is transportation to/from the tour included? No, it isn't. Our guests come from all over the country, so it's not possible for us to project those costs. But, we are happy to help you book your travel to/from the tour as an additional, no-cost service. Just give us a call and we will help find the best travel deal for you.

What about rainouts? Unfortunately, we can't predict the weather, but you might be interested to know that in all the years Big League Tours has been in business, we have only experienced 2 rainouts. In the event that a game is rained out, you will receive a rain check from the home team like all the other fans at the game.

When will I get my travel packet? For those guests that have booked our tours, we mail a packet that has all the final tour information around 3-4 weeks before the first day of the tour. In that packet will be detailed times, hotel info, Big League Tours Player Experience info, tour transportation info etc. We also send updates to our guests via email to keep everyone informed.
We hope you will join us on a luxury baseball tour this season. Here's a link to our 2013 Tours:
2013 Big League Tours Schedule
Our West Coast Tour special continues through next week. We are offering specials on our Full West Coast Tour, Southern California Tour, and Baseball on the Bay Tour. Here are the links to our West Coast Tours.
Please feel free to call or email with any questions.