If you're anything like me, your app library needs a little spicing up every now and then. With the release of the iPhone5 and iOS6 upgrade, I've been getting rid of old apps and downloading new ones that make my daily life just a little bit easier. It got me thinking, "What apps are out there that would make diehard baseball fans go crazy?" Here it comes, I'm throwing at you my Top 6 Apps for Baseball Fan (I couldn't pick just 5):
6. iScore Baseball Keeper
Price: $9.99Rating: 4.5/5 by 205 users
Keep track of your favorite MLB Teams stats or share your sons little league game with family members around the world. Comparable to GameChanger, another statistic tracking app, iScore lets you go back at any time and change a part of the game. You can also share your play-by-play with others, letting them watch the game from beginning to end.
5. Yahoo Fantasy Baseball '12
Price: FreeRating: 4.5/5 by 2,903 Users
Described as the "Best fantasy app for MLB on the market" by iPhone user ZZZLoan, Yahoo Fantasy Baseball '12 can perform most of the functions that you would use online. It provides real-time fantasy updates, allows you to manage your lineup, track matchups, drop and add players and sends you breaking news on players. Compared to other fantasy baseball apps, you'll want to go with Yahoo!
4. Ballpark Envi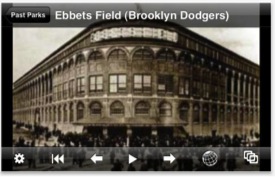 Price: $0.99Rating 3.5/5 by 98 Users
If it's your first time going to a stadium or you're a history buff, make sure to download this app that includes all current stadiums as well as many past stadiums. With pictures from around the stadium, you'll get a great idea of the layout before game day. Some stadiums also offer seating charts so you'll know just where you're sitting. In addition to the images you'll get plenty of info to learn more about the parks. Looking to go on our Hall of Fame Tour? Check out all of the old stadiums before visiting Yankee Stadium and Citi Field!
3. ESPN Radio
Price: FreeRating: 3/5 by 155 Users
If you've previously ignored this app because of the cost, you no longer have to worry because it's free! Since August 20, 2012 ESPN Radio has allowed users to listen to SportsCenter, download podcasts and choose from more than 35 ESPN Radio Stations for FREE! User reviews have been skyrocketing since the change but make sure you get it now because the free offer only lasts until December 31, 2012.
2. MLB Pre Play
Price: FreeRating 4.5/5 by 14 Users
This app gives you a fun alternative to just texting your friends about the game. Make your game predictions before they start or challenge a friend to a play-by-play game. It's a game within a game that'll have you bragging about winning even if your team loses! "When I'm at the ballpark with friends we do this all the time," RonSwansong iPhone user said "especially with players we love or hate!"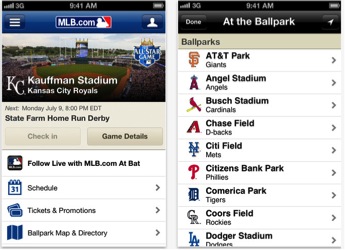 1. MLB At the Ballpark
Price: FreeRating: 3/5 by 92 Users
This is a must have when heading out to the ballpark! Check-in when you get to the park and you'll find some special promotions and deals that you may have otherwise missed. Keep up-to-date with social media surrounding your team all from within the app. My favorite feature? If you're in Philly, Houston, Phoenix or Miami, you can skip the line by ordering food from your phone, all you have to do is pick it up! No delivery options yet, unfortunately. More ballparks will likely be adding this optionin the near future.
So there you have it, my Top 6 Apps for Baseball Fan. As the 2013 tour schedule is being hammered out, I'll keep searching for ways to better improve your trip with Big League Tours and maybe by next year they'll be delivering food to our seats! Make sure to sign up for our 2013 tours and be the first to get the schedule when it's released!
Didn't see your favorite baseball app? Share it with us in the comment section!