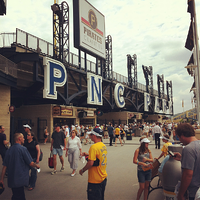 Do you by chance remember hearing the news that MVP Joey Votto was on the DL? Perhaps youare a fan of another NL Central team and you cheered on your chances, but I for one sat devastated and hoped he wouldn't be gone long. My confession: I thought I could kiss post-season play goodbye all because my favorite first baseman was out of the lineup.
Joey's teammates, however, thought otherwise. Over the past several weeks I've gleefully watched my team step up to the plate by making amazing double plays, hitting back-to-back single and two-run homers and have even watched a few heart attack comeback victories. What an amazing and flat out fun team to watch right now! Make no mistake, Votto is a great asset to the Cincinnati Reds baseball organization, and thankfully he will be back. My advice Joey, don't rush it! Get yourself healthy. Your team has things under control! Have you seen Todd Frazier and Zach Cozart?! Have you glanced at the MLB Standings? The Reds are seven games up on the second place Pirates. SEVEN!
How exciting to be attending the Reds Road Trip to Pittsburgh and see this great matchup at PNC Park on September 29th and 30th! If you haven't already booked your tour, do it today!