I headed to the East Coast for my first Big League Tours adventure, flying solo! Although I could have spent days enjoying the city, it was down to business when the wheels hit the ground at Boston Logan. enway will always hold a special place in my heart since it was the first Major League Baseball game I ever attended. I was glad to be back and start sharing what I knew about the stadium with our guests!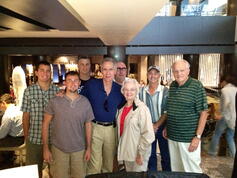 After meeting BLT Host and permanent Boston resident, Mike G. for some secrets of Fenway and a little confidence boost, it was time to hit the hotel and meet my guinea pigs! I'm thrilled to say that my first ever tour group couldn't have been more fantastic. Within the first five minutes, the Australian's had the whole group rolling with laughter while comparing their accents to the Texans on the trip.
We quickly learned that we'd be helping each other a lot over the next week as most of the group learned how to ride a metro system! Once we made it to Fenway the group was off exploring the stadium and checking out one of the best gift stores in MLB. Secret #1 that I discovered, the Bleacher Bar is a must! Enjoy a cheap (for a sporting event) beer while watching batting practice from the outfield!
Secret #2 of the trip, be selective when you try to escape the heat in the Yankee Stadium gift shop, they aren't all air-conditioned! I'm not sure what he was doing, but the weather god wasn't looking down on us in New York. With temperatures in the 100's on Wednesdays and 60's on Friday at Citi Field, I thought I was back in Indiana's crazy weather.
The heat and rain couldn't keep our die-hard fans away, especially the Lantz's who had seen every stadium in the country prior to the addition of six more. With a tour of Yankee Stadium and private meet and greet with 1969 World Series Champion, Art Shamsky, they were thrilled to see more than just a game.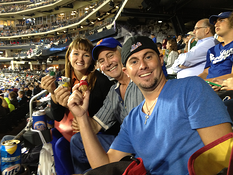 Outside of the scheduled events, our group became very close and spent most of our free day exploring New York City together. With a trip to Lombardi's Pizza, the first coal oven pizza place in the United States, and then the World Trade Center Memorial, the off time was definitely used for more than testing the pillows in the hotel room.
There were definitely lessons learned on my first tour and one of those was how quickly a group of strangers can turn into a temporary family. We even added a few family members, thanks to the Aussie's who gave us stuffed koalas as a souvenier! I couldn't have asked for a better group to share my first trip with, hopefully it won't be the last time we'll be seeing each other!