March 27, 2009 - This year is an exciting year for New York baseball - two brand new stadiums opening in the same year. Our Big Apple Tour has always been a fan favorite, but it will be even more exciting this year.
If visiting two new stadiums wasn't exciting enough, we're going to be joined by Art Shamsky, a member of the 1969 World Champion New York Mets, for our Big League Player Experience. That's where we bring in MLB players to meet the fans traveling with us, share stories about their playing careers, answer questions, and sign autographs and get pictures with the fans on our small group tours. It's an opportunity to get an inside look into baseball and meet some of the players that we've grown up watching.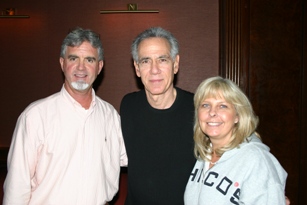 Here's an excerpt from Art's biography:

In 1965, Shamsky made the Cincinnati Reds and hit .260 as a backup outfielder. He batted .289 as a pinch-hitter that year. In 1966, despite getting only 272 plate appearances for the, Art was second on the team with 21 homers, trailing Deron Johnson by 3. He homered four times in four at-bats from August 12 through August 14, tying a Major League record.
On August 12, Shamsky became the first player in Reds history to hit two extra-inning home runs in one game and the only player in Major League history to hit 3 home runs in a game and not be in the starting lineup. The bat that he used to hit the four home runs in a row is on display in Baseball's Hall of Fame.
During the winter of 1967 Art was traded to the New York Mets and was part of the Miracle Mets that won the 1969 World Series. Art hit .300 that season and batted .537 with 7 hits in 13 at-bats against Atlanta in the National League Playoffs. The 1969 Mets are still recognized as one of the most remarkable stories ever in professional sports. After 13 years in pro baseball and with a World Series ring Art retired from baseball in 1973.
In his post baseball career, Art has been involved in numerous business endeavors and was a radio and television broadcaster that included the New York Mets in 1979, 1980 and 1981. In 2004 Art's popular book, "The Magnificent Seasons', was published.

Art joined us in New York City last year for the first time. He had some terrific stories and insight into the game. We're thrilled to have him joining us again. To read more about Art Shamsky,
click here
to be taken to his website. Or, if you would like more information about other Big League Player Experiences offered on our baseball vacation packages, visit
www.bigleaguetours.com
or give us a call!