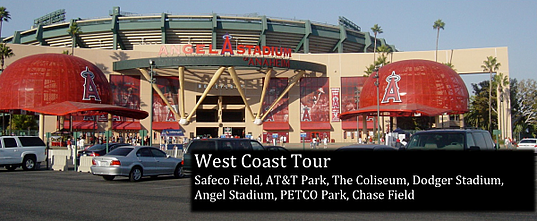 West Coast Tour - Touch 'Em All Out West!!: Includes Safeco Field, AT&T Ballpark, The Coliseum, Dodger Stadium, Angel Stadium, Petco Park, and Chase Field

June 29- July 8, 2012
This is Big League Tours' FIRST TIME EVER to offer a full West Coast tour. And wow, what a tour. There will be seven ballgames in nine days visiting all the ballparks west of the Rocky Mountains. We'll start in Seattle, and then fly to the Bay to catch two games there. We'll board the plane again to LA seeing the Dodgers and Angels in their ballparks. After that, we'll make the drive to San Diego for a Padres game, and finish up after a flight to Phoenix to see the Diamondbacks. We'll add in first class hotels, lower level seats, stadium tours, an MLB player experience, and memories that will last a lifetime. No tour company does it like Big League Tours. We hope you will join us on the extensive tour.
Tour Itinerary
| | |
| --- | --- |
| Friday, June 29 | Safeco Field- Red Sox @ Mariners, 7:10PM |
| Saturday, June 30 | Travel to SF |
| Sunday, July 1 | AT&T Ballpark- Reds @ Giants, 1:05PM |
| Monday, July 2 | The Coliseum- Red Sox @ A's, 7:05PM |
| Tuesday, July 3 | Travel to LA |
| Wednesday, July 4 | Dodger Stadium- Reds @ Dodgers, 6:10PM |
| Thursday, July 5 | Angels Stadium- Orioles @ Angels, 7:05PM |
| Friday, July 6 | Petco Park- Reds @ Padres, 7:05PM |
| Saturday, July 7 | Chase Field- Dodgers @ Diamondbacks, 5:10PM |
This Package Includes:
Lower level seats to seven (7) MLB games
Hotel accommodations for one (1) night in Seattle, three (3) nights in San Francisco, for three (3) nights in Los Angeles, one (1) night in San Diego, one (1) night in Phoenix
Transportation to/from stadium and between cities
Big League Player Experience – Player or MLB Insider, TBA
Stadium Tours (if schedule allows)
Plus, Every Big League Tour Includes:
Lower Level Seats - Our Exclusive Guarantee!
Great Hotels in prime locations - Our Exclusive Guarantee!
Big League Player Experience - Our Exclusive Guarantee!
Special In-room Welcome Gift
Big League Tours Host
Big League Tours Souvenir
Standard Package Pricing
Double Occupancy- $3,675 per person
Third or Fourth in the same room- $2,575 per person
Call for Single Pricing
Due to the rising cost of fuel and airline fares, guests who book this tour after April 1 may be subject to a transportation surcharge.

*Player appearances, schedules, pricing and other details are subject to change