This Week's Featured Tour!!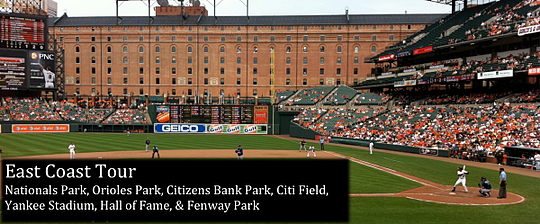 East Coast Tour – Touch 'Em All Out East!!- Includes Yankee Stadium, The Hall of Fame, Fenway Park, Citizens Bank Park, Oriole Park at Camden Yards, Nationals Ballpark & Citi Field

June 21- 28, 2012
This is the ultimate baseball lovers dream tour. Our baseball road trip begins in DC and winds its way through the great East Coast ballparks, with stops in Philly, Baltimore and New York, and ends in Boston's historic Fenway Park where fans are celebrating the ballpark's 100th anniversary. Along the way, there will be stadium tours, an MLB player experience, a visit to The Hall of Fame, and other Big League Tours surprises. If you have a baseball bucket list, then this is the tour for you.
Tour Itinerary
| | |
| --- | --- |
| Thursday, June 21 | Nationals Ballpark- Rays @ Nationals, 7:05PM |
| Friday, June 22 | Camden Yards- Nationals @ Orioles, 7:05PM |
| Saturday, June 23 | Citizens Bank Park- Rays @ Phillies, 4:05PM |
| Sunday, June 24 | Citi Field- Yankees @ Mets, 1:10PM |
| Monday, June 25 | Yankee Stadium- Indians @ Yankees, 7:05PM |
| Tuesday, June 26 | The National Baseball Hall of Fame |
| Wednesday, June 27 | Fenway Park- Jays @ Red Sox, 1:35PM |
This Package Includes:
Lower level seats to six (6) MLB games
Hotel accommodations for two (1) night in Washington D.C., one (1) night in Baltimore, three (3) nights in New York City (Midtown Manhattan), and one (2) nights in the heart of Boston
Tickets to the National Baseball Hall of Fame
Transportation to/from stadium and between cities
Big League Player Experience – Player or MLB Insider, TBA
Stadium Tours (if schedule allows)
Plus, Every Big League Tour Includes:
Lower Level Seats - Our Exclusive Guarantee!
Great Hotels in prime locations - Our Exclusive Guarantee!
Big League Player Experience - Our Exclusive Guarantee!
Special In-room Welcome Gift
Big League Tours Host
Big League Tours Souvenir
Standard Package Pricing
Double Occupancy- $3,590 per person
Third or Fourth in the same room- $2,490 per person
Call for Single Pricing

*Player appearances, schedules, pricing and other details are subject to change