May 9, 2008 - The MLB road trip officially started today. We met in the hotel lobby and then took off for Yankee Stadium. Our group contains travelers from California to Georgia and several places in between. For many on our group tour, this is their first time to New York City. So to give them an appropriate welcome and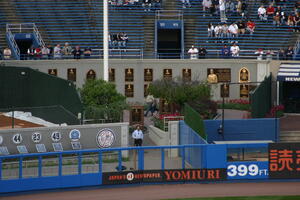 initiation into the city, the first thing we did was head into Grand Central Station and get on the #4 train to 161 and Yankee Stadium.
We arrived at Yankee Stadium just as the gates opened. This was the third game in the series against the Cleveland Indians. The Indians had won the first two games so the Yankees fans were anxious for a win. They weren't disappointed as the Yankees' bats finally came to life. None were more alive than Jason Giambi"s as he hit a towering home run into the Tier Boxes in right field. We had seats on the third base side looking down the right field foul line which were perfect for seeing whether or not that hit stayed fair. What an incredible shot! The Yankees ultimately won 6-3 avoiding the sweep from the Indians and drawing them to 18-18 for the season.
Here's a shot into famed Monument Park at Yankee Stadium. Our group will be taking the baseball stadium tour on Friday and will get to see the Park first hand along with other elements of the "House That Ruth Built". The Yankees have left town to play in Detroit so we will hopefully have access to their clubhouse and dugout.