May 8, 2008 - The latest Big League Tour revolves around the teams and stadiums in New York City. A few of the travelers arrived early in Manhattan to meet friends and family, take in some sites, or to head out to Yankee Stadium to take in a game.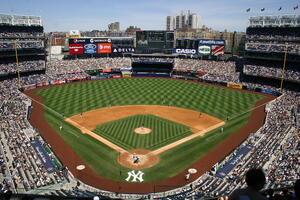 Having never sat in the Tier or Tier Reserved levels, my son and I decided to see what it was like. (This photo was taken from our seats.) Frankly, we didn't think the seats were too bad. You couldn't always tell how well balls were hit since you couldn't see the arc of the ball. But from this angle, it's a great place to watch how players position themselves for different hitters, situations and plays. One thing we immediately noticed was that it was about 10 degrees colder (or so it felt) when we got to our seats. The wind was on us the whole game.
Probably the best part of these seats was that you couldn't help but get caught up in the magnitude of the ballpark. You get a birds' eye view of 50,000+ fans that have filled up one of the League's most historic baseball stadiums. I wouldn't want to sit up there every game, but it was worth it to get a different perspective of the game.