We received a question from someone interested in our tours asking, "What hotels will we stay in on this tour?" We started trading emails and they shared the following:
"I was on another tour from another company and most of the hotels were in the middle of nowhere. You couldn't get anything to eat or drink after getting to the hotel afterwards. I was really disappointed in the location and quality of some of the hotels is why I was inquiring."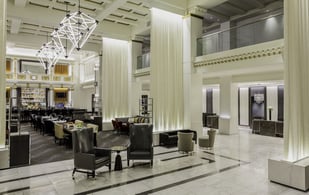 We get it! Staying in a low quality hotel can quickly ruin a trip. That's why on a Big League Tour, guests stay in first class hotels (Hyatt-, Marriott-, Hilton- and Westin- brand hotels). Hotels have been chosen based on their quality, location to the stadium, and proximity to other points of interest. Tour hotels will be in the city center or near the ballpark.
After purchasing a tour, guests will be sent a full itinerary, including full hotel information. We are happy to answer any questions you have about travel plans and provisions. To see more information, visit our FAQ page.
One of our frequent guests, Dennis D., was asked what makes Big League Tours different than other travel experiences. He responded, "Outstanding owner, outstanding accommodations, outstanding tour guides, overall 100% geared towards guests."