We're cooped up here in Indy and wanted to get out for a little while, so we took a road trip to New Orleans this past weekend. We rented a car, drove down to NOLA, stayed in an Airbnb, ate lots of beignets, and enjoyed every moment. If this is the "new normal" for travel, we're 100% on board.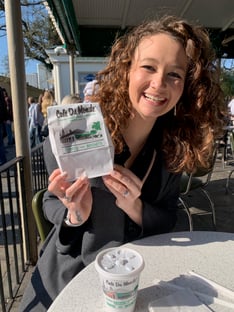 Besides everyone wearing masks and standing a little further apart, nothing felt too different than pre-COVID travel. Everyone was social distanced while in line for coffee, visiting museums and sights, and watching street performers. Wearing masks into establishments and in crowded areas was strictly enforced. Hand sanitizer stations were never out of sight, and almost all restaurants/sights enforced some level of contact tracing.
Restaurants were extra diligent in cleaning tables/chairs before seating new guests. (Which wouldn't be a bad idea even without COVID!) All restaurants provided either disposable menus or QR menus on your smart phone. Some restaurants even provided a bottle of hand sanitizer on the tables for guests.
We visited The National World War II Museum and never felt at risk of COVID spread. They did a great job of crowd control through the museum and gave each guest a disposable stylus to use for any interactive touch screen exhibits. The same was true for St. Louis Cathedral. All guests were respectful of social distancing guidelines and we never felt at risk.
We finished our trip feeling hopeful and excited to plan another trip. I'd missed walking on unfamiliar streets, people watching while drinking coffee, and breaking the monotony of everyday life. Whether it's vaccinations, PPE, social distancing, driving instead of flying, or another precaution that makes you comfortable traveling, I would encourage you to do the things that make you comfortable, pack your bag, and get out there again.
There is absolutely light at the end of the COVID tunnel. We'll get back to doing the activities we love. We'll be exploring new cities or visiting familiar favorites before too long. The new normal isn't half bad, and it feels great to be optimistic about the future.