If you've been following us for some time, you've probably come across Eileen in our photos! She has been an avid traveler with us for many years, so celebrating her incredible achievement of visiting 30 stadiums this summer filled us with absolute joy! Let's hear what Eileen had to share about her extraordinary journey with us:
"Hi, my name is Eileen F. and I highly recommend Big League Tours!! I am from Boston and grew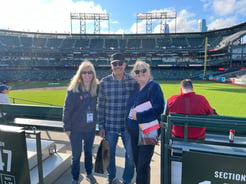 up loving baseball and the Red Sox! I just love the ambience of the stadiums. I decided I wanted to see all 30 stadiums. I looked online and Big League Tours popped up. I chose the East coast tour for my first tour in 2015. It absolutely met all my expectations! The host was personable, knowledgeable and made you feel at ease. The accommodations were excellent, the seats were premium and the transportation in between stadiums was great. I met a couple from California on that tour and we decided to go on future tours together and we did except 1 year.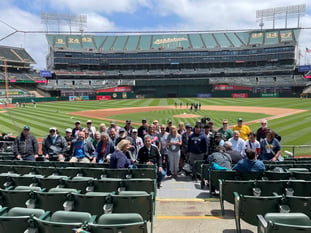 I continued my adventure with tours in 2016, 2017, 2018, 2019, 2022 and 2023!! You also have extra time to sightsee in the city you are visiting. The great thing about Big League Tours is each tour you either get an experience with a key player, speaker or a tour of the stadium. I completed my 30th stadium May 2023 at Oakland Coliseum!! The host, Glenn, presented me with a ball and case. All the people on the tour signed the ball!! I was ecstatic!! We also got a group picture that made it extra special!!
You will not be disappointed with Big League Tours!! I have so many great memories and will treasure them forever."

Eileen, thank you for choosing Big League Tours all of these seasons and letting us be a small part of your accomplishment! We are grateful for you. Congratulations!!