At Big League Tours, there's nothing we love more than celebrating our guests' incredible achievement of visiting all 30 MLB stadiums. It was an absolute honor to celebrate with Bob this summer. Let's dive into his unforgettable journey with us:
"My first Big League Tour was the Southwest Tour in July 2021, which started in Phoenix, then Denver, then Arlington and finished in Houston. Our tour host did a fantastic job. Hotels were centrally located and travel between cities was seamless. Prior to that, I had been to 18 of the current Major League stadiums. Living in New Jersey allowed me to see most of the stadiums in the Northeast over the years. (As a side note I have also been to 10 stadiums that no longer exist.)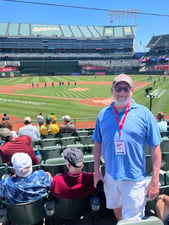 With 8 stadiums to go, my next tour was a partial West Coast Tour in June 2022 which took San Francisco and Seattle off the list. Tour leader Tia was excellent, and Glenn joined us in Seattle. Once again hotel and travel were first class.
In September, I took a day trip to Cincinnati.
My next tour was the Southeast Tour in May 2023, starting in Miami, on to Tampa, then Atlanta.
As I have come to expect, Nathan, the tour host did an awesome job, and as always, hotel and travel
were carefully planed.
For my final two stadiums, I was on a partial Midwest Tour in July 2023. I went to games at both Chicago stadiums, (even though I had already visited both) then Milwaukee, St. Louis (prior visit) and then
number 30, Kansas City. The big guy himself, Glenn, was our tour host. Hotels and travel were great,
as always.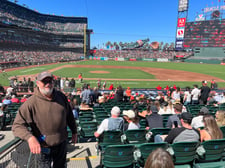 The attention to detail is what separates Big League Tours from other tours. The tour hosts are knowledgeable and fun to be with. I really enjoyed my time in Chicago. The Palmer House hotel was in a great location and just a beautiful property, and meeting with Ron Kittle was thoroughly enjoyable.
The main reason I would recommend Big league Tours is the personal attention paid to clients to help them enjoy the experience. That and the excellent seat locations in each ballpark!
I would like to mention that traveling with a group of people who meet as strangers with a shared interest become friends by the end of the tour."

Congratulations, Bob! We will always be grateful that you chose Big League Tours and allowed us to be a small part of achieving your bucket list dream!