JOIN BIG LEAGUE TOURS ON A LUXURY BASEBALL TOUR IN 2015!
We have been working diligently over the last few weeks to come up with the best tour itineraries and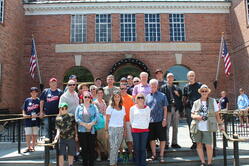 destinations for our guests in 2015. We are proud to announce that all of our 2015 luxury baseball tours are now available for purchase.
We have 32 tour itineraries to offer our guests in 2015. Our tours will feature a new East Coast itinerary that includes Pittsburgh; a new Mideast tour that includes a day/night at Niagara Falls; two new West Coast Plus tours; new Mini East Coast and Mini Midwest Tours; and much more. You can choose from three or four night destination-type tours, or full, extensive tours that include multiple ballparks with up to eight nights accommodations.
No matter what tour you choose, you will be guaranteed to stay in the finest hotels in the hearts of the cities or near the ballparks; have premium seats for every game; enjoy our sensible itineraries where you will have plenty of free time to explore; and all the other Big League Tours extras.
Click on the links below to see the tours for each region.