The new Marlins Ballpark was opened in 2012. It was the first new Major League ballpark since the Twins' new facility, Target Field, opened in April 2012 in Minneapolis. If you had ever gone to a Marlins game at Dolphin Stadium, you knew it would be great if the team had a facility that was dedicated to baseball.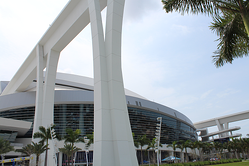 Unlike Dolphin Stadium, which is right off the interstate and very easy to get in and out of, Marlins Ballpark is tucked into a neighborhood that makes it harder to get in and out of the game. For this visit, we were headed to the ballpark not as a group tour, but just as a family tour. We paid for stadium parking in advance, which at least eliminated our concern about where to park. It didn't help us get out any faster, though.
The outside of the ballpark is very space-age looking. The columns in this picture support the roof when they open up the stadium. There was a threat of thunderstorms when we were there so they kept the roof closed.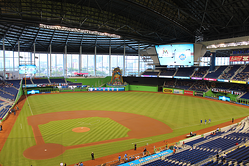 Inside, the park carries the sites and sounds of Miami throughout - Latin-influenced and very colorful. Even the smells in the stadium were different than others because of the wide range of food offerings.
My overall impression? It's a much needed improvement over Dolphin Stadium to see a baseball game. My opinion is undoubtedly tainted in that I don't like watching baseball games under a roof. I understand the reason for it, but I think it kills the atmosphere of a game that's supposed to be played out doors. (My opinion is the same of all dome or retractable roof stadiums in the Majors...)
What could have helped? If the roof would have been open, I'm sure it would have influenced my opinion. If the ballpark had been built in a neighborhood that either grew up with it (think Fenway Park or Wrigley Field) or had developed around it (think Coors Field or Camden Yards), then it could have been a better experience. (Once you go in doors, though, it doesn't really matter.) The locals will tell you that fielding a better team would make all the difference in the world. I can't blame them...
Without any new ballparks under construction anywhere in the Majors, Marlins Ballpark will remain the newest park for the next several years. If you're planning to make a trek to Miami for a game, my suggestion would be to go at night (hoping the roof will be open), choose an opponent with a large road following (so there will at least be somebody's fans in attendance), and give yourself plenty of time to get in and out of the ballpark.