Baseball Tour Operator Offers Its Largest Selection of Baseball Vacations
Luxury baseball tour provider, Big League Tours, begins its eighth year by announcing its largest selection of baseball tours offered to date. The official announcement came at a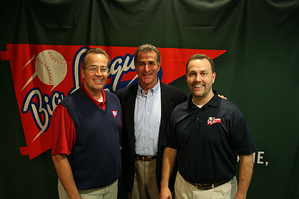 launch party held at the company's new headquarters outside of Indianapolis. Chris Welsh, former Major League pitcher and current Reds broadcaster, was on hand to assist company President and Founder Glenn Dunlap in introducing the luxury tour packages. In addition to its traditional Multi-City Tours, Big League Tours is offering shorter Destination Tours and Getaway Day Tours in 2013.
The Multi-City Tours include trips to some of the country's greatest cities and visits to multiple baseball stadiums. Travelers will not only sit in the best seats and stay in great hotels, they will also enjoy other great features such as stadium tours, player meet and greets, and special stadium access. Highlights include the East Coast, Hall of Fame, Midwest and West Coast Tours. Details at www.bigleaguetours.com/2013-baseball-tours/multi-city-tours/.
"Without a doubt, our most popular trips each year are the tours that include Yankee Stadium, Fenway Park, The Baseball Hall of Fame and Wrigley Field," shared Glenn Dunlap, President and Founder of Big League Tours. "But, we have also seen an increase in demand for tours to the West Coast, so fans can see AT&T Park, Dodger Stadium and PETCO Park. We believe we have met that demand with a variety of tours including our Full West Coast, Southern California, and Baseball on the Bay Tours."
The Destination Tours have been designed for travelers who would like to spend time in one city, enjoy some baseball games and events, and take advantage of custom tour options. Dunlap states, "Taking place on mostly long weekends, these tours will give our guests lots of flexibility and suit the needs for avid, as well as casual, baseball fans." Highlights include tours to New York, San Francisco, Boston, Denver, and Chicago. Details at www.bigleaguetours.com/2013-baseball-tours/destination-tours/.
For the first time, Big League Tours is offering Getaway Day Tours. Getaway Day Tours are one- day excursions in some of Big League Tours most popular baseball cities. As with all Big League Tours, guests will enjoy luxury accommodations and lower level infield seats for the game. The 2013 season will feature Getaway Day Tours in New York, Boston, Chicago, San Francisco, Denver, and Miami. Prices for the Getaway Day Tours start at $500 per person based on double occupancy. Details at www.bigleaguetours.com/2013-baseball-tours/getaway-tours/.
Big League Tours helps fans get closer to the game by securing lower level seats, arranging stadium tours and player experiences, and providing first-class hotel accommodations. Flexible itineraries allow fans to experience the best of the best in the greatest baseball cities across the nation.
###
About Big League Tours
Big League Tours helps fans of all ages experience baseball from a new perspective- from inside the game. Unlike other tour companies, Big League Tours not only takes care of the buses and games for a baseball tour, but also provides all the extras to turn tours into true sports vacations loaded with unique baseball-related events. For more information, contact Big League Tours at www.bigleaguetours.com.