What better way could there be to start our 2013 baseball trips and tours than one of our Hall of Fame tours? This tour starts in New York City where we'll stay in the heart of Midtown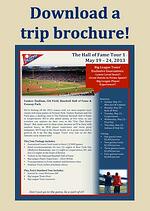 Manhattan giving you great access to all kinds of sites, restaurants, and shopping. The first day of the tour we'll see the Blue Jays face the Yankees at Yankee Stadium. The next day we'll see the Reds play the Mets at Citi Field and have our Big League Player Experience with former MLB pitcher and Reds Broadcaster, Chris Welsh.
We'll then travel to Cooperstown to spend the day at the National Baseball Hall of Fame. You'll have time to explore the exhibits in the Hall as well as the many memorabilia and collectibles shops in the Village.
After a relaxing evening in upstate New York, we'll head over to Boston for a free day and evening. You'll be in the heart of the city once again. The following day we'll head over to historic Fenway Park to see the Indians and Red Sox.
This tour will also include one or more stadium tours which we'll finalize once the Yankees and Red Sox release their game times. Here's a short video that will give you the quick rundown of the tour. We hope you'll join us!!