Our West Coast Baseball Tour flew from San Francisco to Los Angeles. After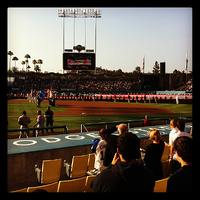 the travel day and free morning to explore LA on their own, our guests headed out to Dodger Stadium on July 4th to see the Dodgers host the Cincinnati Reds. Here's a view from our seats.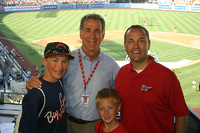 We started the night with a visit with Reds broadcaster andformer MLB pitcher, Chris Welsh. Chris hung out with us at field level and then took us up to the broadcast booth to see things from that vantage point. The booth is pretty small so we only went in three people at a time. Here's a shot of our three with Chris.
I would have to say the highlight for me, though (and no slight intended for Chris), was to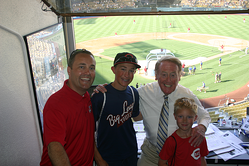 meet the voice of baseball, Mr. Vin Scully. As we were exiting the visiting team's booth, Chris introduced us to Mr. Scully who graciously spent a few minutes talking with us. It was surreal to be talking with the man who I've listened to all of my life calling the Dodgers games.
Here we are with Mr. Scully, in the Dodgers broadcast booth. What a fantastic time. Thanks to Chris and Mr. Scully for making our visit so memorable!
Check out the Game Summary on MLB.com.