The following day we took our west coast baseball tour guests to San Francisco. We hopped a short flight and arrived at SFO in the early afternoon. Once we checked into our hotels, everyone had the afternoon and evening on their own to go see the sites. We provided 3-day metro cards that allowed our guests to use the public transportation to go practically anywhere in the city.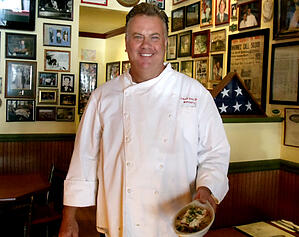 By now, I'm sure you're picking up on my love of food. Yeah? So when in San Francisco, a city that's known for its great food, how could I not explore just a bit? We opted to go to Rocco's Cafe, a local Italian spot that we discovered by watching Diners, Drive-ins and Dives.
Chef Don, founder of Rocco's, paid our table a visit and chatted with us for quite a while. Turns out he's quite the baseball fan. In fact, Rocco's is so close to AT&T Park and the food is so good, that we've heard several of the Giants players, managers and staff members frequent the restaurant. I'm sure that several members from the visiting teams make their way to Rocco's too. If they don't, they're missing out!