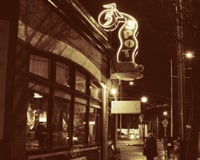 Our day started off by visiting the 5 Spot Cafe on Queen Anne. The menu was very inventive and the food was delicious. It was the perfect way to start off a full day of siteseeing and baseball tour activities!
We then took the bus down to Pike Place Market. We paid homage to the original Starbucks location and then walked the market. Witnessed the fish throwing that has become known around the world. Even bumped into Dustin Pedroia (the Red Sox were in town) at the market!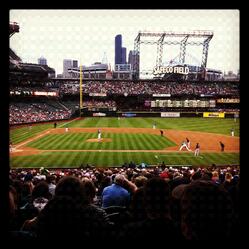 In the middle of the afternoon, we connected with our group at the hotel to officially kick off the tour. After they received their goody bags, we headed out to Safeco Field. This was the first time for all of our travelers to visit the stadium so we went early to give everyone time to take a look around.
Here's a view from our seats early in the game. About the middle of the 6th inning, it started to mist or rain a bit so they closed the roof. I had gone up to the upper deck to take some pictures and realized in just the last minute or two that it was closing.
Even if you take the train to Safeco as we did, I would recommend entering the stadium at 1st Avenue and South Royal Brougham Way. It's a much more inviting entrance and will give you a much better feel for the ballpark than any other entrance. It's much larger and also helps you avoid having to change levels to walk around to home plate.