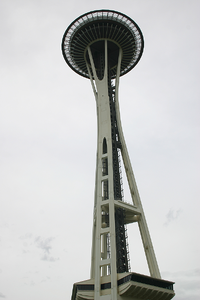 The first day of our West coast baseball trip was a free day for our guests to arrive at their leisure, get settled in the hotel, and see a few sites in Seattle. Our tour group stayed in the heart of Seattle within easy walking distance of the Space Needle, Pike Place Market, and lots of restaurants and shops.
The first afternoon we walked to the Space Needle. It's hard to believe that this structure is 50 years old. I personally hadn't visited the needle or that area for 26 years. From what I could remember, it appears that the park and area surrounding the needle have been re-built or re-vitalized.
We were a little disappointed that we didn't go up in the needle but it was so overcast that we wouldn't have been able to see much. At $19 per person, we didn't feel that we could go up and not see anything and feel that it was worth it. For another day!
We had also had a recommendation from a friend to check out Top Pot Donuts. Holy cow, they were great! We're all fans of different kinds of donuts so we sampled several.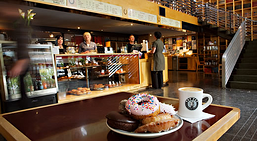 All I can say is that if you are ever in Seattle, you have to stop in!! My personal suggestion is the Maple Bar and a cup of Americano.
You know, as I sit here and right this blog post, I'm thinking that it would be worth a trip to Seattle just for these doughnuts!!
Here's a photo from their website that's of their 5th Avenue location. Nice atmosphere, great folks, fabulous doughnuts and coffee!!