Ah, yes. Players have reported to camp, Spring Training games begin in about a week, and baseball news has heated up. All those things mean that baseball trips are just around the corner!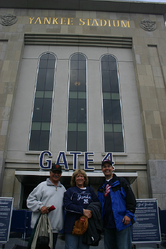 I'm personally hosting a couple of our tours and have started putting together my plans for the non-baseball portions of our itineraries. For instance, on our West Coast Tour, I'm looking forward to seeing Pike Place Market in Seattle, touring Alcatraz in San Francisco, and eating authentic Mexican food in San Diego.
I'm also really looking forward to meeting up with Big League Tours' customers in their hometowns and at their home stadiums. They can always give us a local take on the ballpark, the team, and the city's sites and attractions. I'm in the picture to the right just outside of Yankee Stadium with a couple of guests from California. We're planning to catch a game together at AT&T Park when our baseball tour comes through town. Can't wait to re-connect!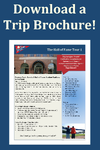 So it's not too early to begin your tour planning for the 2012 baseball season. Find the tour that suits your needs and start laying in all the "extras". Let us know if you need help planning that perfect baseball vacation package!
Check out our 2012 Baseball Tours, Download a trip brochure, and Sign-up for the baseball experience for a lifetime of memories!