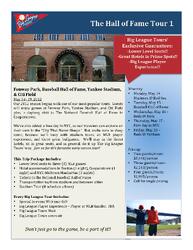 2015 BROCHURES - COMING SOON!!
Our 2015 Tour Brochures aren't quite finished yet - but they will be soon! Let us know what interests you the most - East Coast, Mideast, Midwest, or West Coast Tours - and we'll let you know when they're available, getting the brochures in your hands as soon as they're available.
You'll be able to choose a long-weekend or week-long tour that includes:
Premium seats at the games,
Luxury hotels in the heart of the city,
Big League Player Experience, and
Many other Big League Tours features!!
We hope you'll join us for the trip of lifetime!!